Heated K-Guard Gutter Systems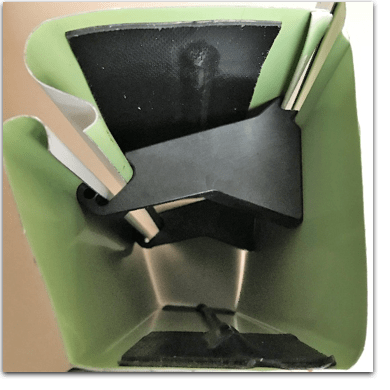 Cut View of Heated K-Guard Gutter
Using a Heated K-Guard Gutter System or our K-Guard HotWire Roof & Gutter De-Icing System prevents ice dams and snow buildup on your roof and gutters.
Having a K Guard Leaf-Free Gutter System installed will give your home year round protection from leaves and debris; but did you know that our Leaf Free System can also provide you with protection from icicles and snow build-up in winter? That's right; our superior Leaf Free Gutter System can be heated during the cold weather months by utilizing heating cables INSIDE the system which will prevent icicle formation and ice build up in your gutter system. If you act now, you'll receive up to $1000.00 off your purchase of a Heated K Guard Gutter System!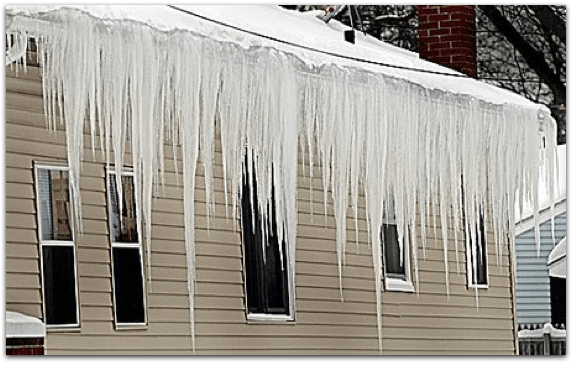 Image 1
Image 1 is an example of icicles on a roof edge caused by inadequate attic ventilation or insulation. The most effective remedy for the above pictured problem is achieved by correcting deficiencies in attic ventilation and/or insulation. However, in some homes, correcting these deficiencies is infeasible or impractical due to cost or design issues.
The use of Electric Heat Cables at the eaves/gutters on a roof should be used as a last resort as this type of solution does not address the underlying problems causing ice dams - inadequate attic ventilation and/or insulation. In situations where it is cost prohibitive to correct inadequate insulation/ventilation issues, we recommend a Heated K Guard Gutter System to homeowners with ice dam or ice backup problems. Our previous article discussed examples of these types of problems such as some cathedral ceilings or attic design that allows conditioned air to mix with unconditioned air.
Heated K Guard Gutters and electric heat cables are expensive to install and require ongoing electricity expense. The cables must also be turned on before ice dams are formed as they can prevent ice formation but are not warm enough to melt large areas of existing ice. However, Heated K Guard Gutters and/or electric heat cables can be effective at preventing ice back up damage in your home when used correctly.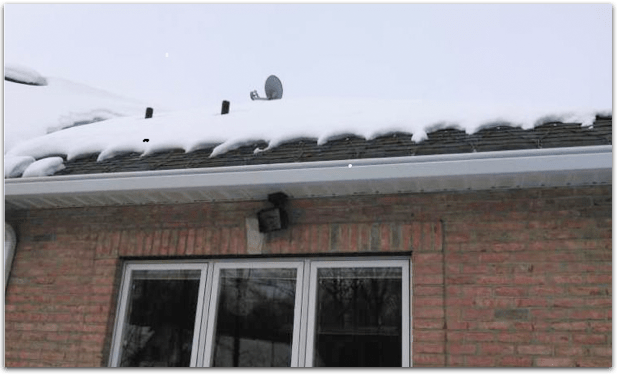 Image-2 - Heated K Guard Gutter System with Roof Heat Cables
A Heated K Guard Gutter System such as the one shown in image 2 offers the most effective solution. This system can be entirely self-contained, eliminating the unsightly loops of heat cable on the edge of your roof, or it can be installed along with heat cable on your roof edge as shown in image 2.
K Guard's is the only Leaf-Free Gutter System with a two-piece design which allows for heated cable to be attached to the underside of the gutter hood as shown in the photo below. With a Heated K Guard System, a second line of heat cable is also attached to the inside of the K Guard Gutter trough. The heat cable lines are held in place using EPDM tape, an extremely adhesive non-heat-sensitive tape used for low-slope roof membrane installations.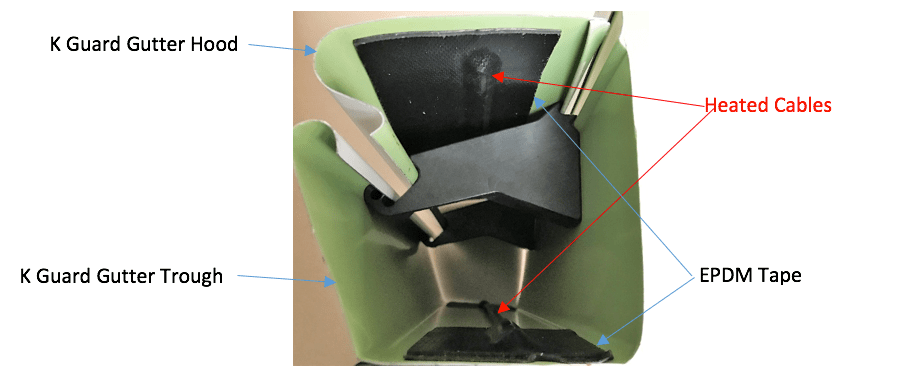 A Heated K Guard Gutter System also provides a double-looped heated cable run in all downspouts that extends to beneath the frost line in the underground sewer connection line. As part of a Heated K Guard installation, all required electrical work is performed by a licensed electrician and the system can be arranged so that it is controlled using a switch inside your home.
Heated K Guard Gutters provide an extremely efficient solution for preventing ice backup on homes where proper attic ventilation and insulation are not feasible. K Guard Cleveland will provide a FREE inspection of your home's attic ventilation/insulation and a FREE no obligation quotation for correcting your insulation/ventilation or installing a Heated K Guard Gutter System on your home. Call us at 216-586-2110 for more information or to arrange a FREE inspection.